Skip the cramped and expensive hotels this year, and visit El Colibri on your family vacation instead. Our beach villa allows you to spread out as you bask in the sun on the East Cape of Baja California Sur. Explore some of the features that will make your next family vacation an unforgettable one.
Discover Our Beach Villa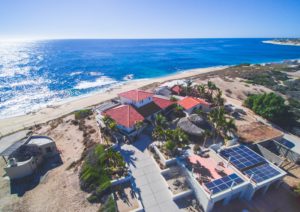 El Colibri has four bedrooms that are perfect for six or eight people. Decide between a garden- or ocean-view room as you explore the entire property. Both kids and teens will enjoy the large spaces as they bring their toys and other distractions.
If you're concerned about filling the home with food and other provisions, let us know before you arrive. We will provision the modern, fully equipped kitchen with foods that you prefer so that the entire group doesn't have to spend time at the local market. Remember that the huge, kitchen island is at your disposal for entertaining, food preparation and socializing.  With a large stock of towels and linens you barely need to think about laundry. If you do need to wash a few items, there is a laundry facility for your convenience.
Settle down on the sun deck after a long day of exploring the beach or San Jose Del Cabo. The family can spread out in one of the many outdoor lounge and recreational areas, or pull out a game or a movie in the center great room.  The concept of El Colibri is off-the-grid living, but we do have connections through our Internet service. Watch Netflix or channel surf on the smart TV as you unwind from all of the outdoor fun.  We also stock a host of different games, novels and DVDs for your convenience.
Throughout your holiday don't be shy about using our amenities. Snorkel sets, boogie boards, umbrellas and beach chairs are all yours as the beach beckons you to explore its shore.  Relax and read a book under the shaded palapa as the kids play games with the badminton set or horseshoe pit. Our property has all of your needs taken care of from dawn to dusk.
Exploring Los Cabos, Mexico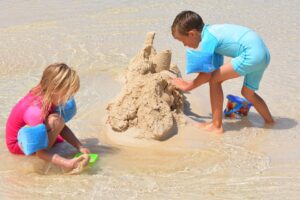 Stay close to El Colibri and enjoy Shipwrecks Beach that's merely a few steps down the stairs. The beach is literally your front yard. As an alternative, become a beachcomber on this family getaway by heading out to the coastal road for an off-road adventure. Several beaches are found along this stretch, and the children can pick almost any location.
On the East Cape, the entire family will love swimming with dolphins, ziplining or heading out on a three-hour ATV tour adventure. You might have a list of activities that you want to try tomorrow so get some rest in order to enjoy more adventures. For dinner, make a reservation at Flora Farms, just 20 minutes away – it is an experience you will never forget!
When you want to explore the hustle and bustle of Cabo San Lucas, head out early to the marina there. Hire a small boat, and the captain will show you every feature of the coastline including Land's End.  Lover's and Divorce Beaches are at the base of the famous arch where the tip of Baja California resides. Head back to the marina for some land adventures in the afternoon. When all of your energy is spent, enjoy lunch at The Office or other eateries along Medano Beach. Once your family reaches El Colibri again you will feel at home and ready to soak in the relaxing sounds of the waves!
From beaches to adventure activities, to quiet solitude in our villa, El Colibri has your getaway covered for every member of the family. Enjoy a luxury-home experience while creating memories that will last a lifetime. Off-the-grid living and crystal-clear waters will leave you wanting more as the Mexican landscape fills your souls with happiness. Get in touch for booking today.