The hum of city life can drain away your energy. When a holiday is beckoning, it's time to think simple and book a trip at El Colibri. Our private villa is an off-the-grid paradise that's located on the East Cape of Baja California Sur. Discover how you can recharge at our casa this season.
Using Nature's Resources for Good
As you look out from our beach villa, the coastline and sandy beaches beckon you to their edges. It's hard to imagine being wasteful in a paradise such as this, so our property harnesses the power of the sun for most energy needs.
You'll see modern solar and inverter technology at work with solar panels to power the air conditioning, appliances, lights and other necessities. However, you may want to forgo the A/C use and simply rely on the fresh breezes off of the water.  As you soak in the seaside natural setting of watching birds and unique creatures swimming in the sea, you'll have all the comforts of home without harmful effects on the local environment.
Clean, All-Natural Food
When you head down to San Jose del Cabo, the food is an instant draw. You'll find multiple restaurants and eateries that offer organic selections. Explore some of the top markets and restaurants in Baja Sur, Mexico, such as:
• San Jose del Cabo's Organic Farmers Market
• El Merkado
• Cynthia's Fresh Organic Restaurant
• Flora Farms
Enjoy the traditional, outdoor food treats offered every Saturday morning by the Organic Market. For an indoor excursion, El Merkado concentrates their artisan foods within a brick warehouse that has personality. Local foods and drinks are the hallmarks of these markets.  Pick up some snacks for lunch, or buy an entire meal with wine and flowers and create the perfect seaside picnic at your own private villa!
Luxurious Pampering
A spa experience is always part of a fantastic vacation. Professional facilities are near our villa, including:
• Mexsun Spa
• Cabo Azul Hotel
Conveniently located on Avenue Centenario just outside of Old Downtown San Jose, you'll find Mexsun Spa.  Go to the Organic Market on Saturday and then get your nails done with a facial afterward.  This is a popular choice among the locals for those who want great service at a good price.
Head to the Cabo Azul Hotel for a more luxurious massage. Make an appointment for the mid day so that you can spend the afternoon enjoying the amenities at the hotel. Return to the villa for a private retreat that's all yours to enjoy.
Our casa has another surprise in store for you because massages can come to you. The lovely Patricia will visits your beach villa, set up her table in front of the breaking waves where you can truly relax and unwind….living in luxury is part of the El Colibri experience.
Mind and Body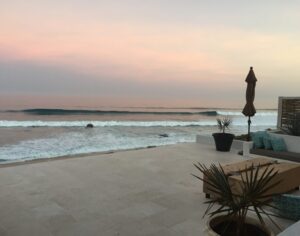 Workout hard or just relax at El Colibri. We have you covered with in-house yoga mats that you can spread out on almost any deck or terrace.  Our thatched roof palapa is a perfect shady retreat for those strength-training exercises, or try some pilates and other stretches to feel the blood flow through your skin. The warm breezes will keep you motivated during your workout.
The sunrise is perfectly situated on the El Colibri patio. Roll out a yoga mat on the infinity terrace and perform your relaxing moves as you greet the beautiful Mexican day.
Start your vacation planning today for a retreat to Los Cabos. El Colibri's decadent amenities are waiting for you. After only a few days in our villa, you'll feel recharged and united with nature, as off-the-grid living continues to brighten your heart, mind and soul.