If sport fishing in rich waters is on your bucket list, the East Cape of Los Cabos, Mexico, must be part of your plans. Stay and play in this Baja region by booking a reservation at El Colibri. Our private villa is your retreat away from the busy tourist area. However, you'll still have access to sport-fishing adventures with only a 20-minute drive from the Puerto Los Cabos Marina. Explore your fishing options while you bask in the constant sunlight only found in Southern Baja California.
The What and How
San Jose del Cabo is home to many sport fishermen and guides, who're happy to help you find the hot fishing spots on your Baja adventure.  At El Colibri, we recommend Gordo Banks as your fishing guide team, and you'll find this company at the Puerto Los Cabos Marina only 20 minutes away. Depending on the season, discover one of these specific fish species that are thrilling to catch off one of their fishing vessels leading the way: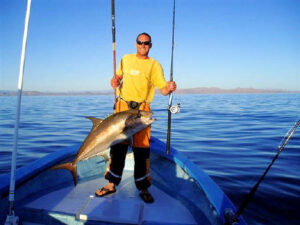 • Sierra
• Tuna
• Grouper
• Dorado
• Sailfish
• Marlin
• Wahoo
• Snapper
• Roosterfish
• Yellowtail
• Cabrilla
With so many fish to catch, it'll be difficult to choose between half- or full-day excursions out on a chosen vessel.
Getting onto the Water
Our favorite, Gordo Banks, knows all of the fishing rules in and around the Southern California Baja area. Your first concern is a fishing license and you can obtain a temporary one at the marina on the morning of your fishing day.  You're able to catch almost any species with the proper equipment and tackle provided by your guide – and remember to ask if bait is included or if you need to bring cash along.
Explore your fishing-vessel options when making your reservation. Small groups of up to three people fit perfectly in a panga, a modest but comfortable open, outboard powered fishing boat.. For larger groups that want more room, choose a cruiser of about 30 feet.  Cruisers get you out to the fishing grounds with speed on your side.  Depending on your preference, you could spend as little as $275 to $500 on a fishing vessel for half day or full day charters.
Exploring Local Events
Sport fishing is an event that's year-round in Cabo San Lucas. Arrive any time of year to see and taste the many species of fresh fish common for the Baja waters.  You can also schedule a visit during certain events that occur each year when tournament fishing is at its finest and if entered you could win thousands of dollars.  Fill your time otherwise with swimming, diving and surfing on the side.
Top fishing events in Los Cabos include:
• Annual Stars & Stripes Tournament, June 22-25, 2017
• Bisbee's East Cape Offshore, August 1-5, 2017
• Famous Bisbees Black and Blue, October 24-28, 2017
Going Ashore
Pack your favorite fishing rod, and head down to the beach, or "Rooster Fish Alley" as the locals call it, where you can find this distinct species right off shore. Try raw shrimp or pieces of raw bacon from your cooler so that your hook is the popular one along the shoreline.
To rent equipment follow this map of the local marina so that you know where all of the bait and tackle shops are located. As a unique outing, grab the kayaks at El Colibri to float along the water just off of the beach. With a few casts into the Baja water, you'll be hooked on Mexican sport fishing.
Don't catch and release every fish that you hook on this adventure. Our beach villa is outfitted with a modern, full-size kitchen that's waiting for your catch of the day.  Ask the marina workers and guides to prepare your catch so that it's ready for the grill or skillet when you arrive back at El Colibri.  Or better yet, transform your fresh white fish fillet into the most delicious and simple ceviche treat on the deck at cocktail hour!   Try this ceviche recipe out and we are sure you will be pleased with the results.
Discover other options, including catch preparation at a local restaurant where they will impress your friends with a fish feast, at a fair price of about $15 per person.  It's your vacation so do what you please with the fresh fish as you enjoy every minute of this ocean getaway.