A gorgeous beachfront setting, turquoise water, and a symphony of romance rolling in with the waves, Shipwrecks Beach in Los Cabos is undeniably one of the most romantic and breathtaking places to plan your intimate wedding, or perhaps a small family reunion after the wedding.  Exotically located on a surf break about 20 minutes from the Puerto Los Cabos marina, you will feel free and alive to experience all that nature and the sea offers, and yet close enough to get to town when needed.
There are countless reasons why Los Cabos is becoming consistently more popular every year, some of which include its ease of access, consistently beautiful weather, warm and friendly people, delectable Baja food, and of course the breathtaking views!  It's no wonder that it is also becoming one of the most popular locations for a destination wedding.
At El Colibri we go above and beyond to service our guests and ensure that they have everyone they need for their event.  Whether it be a family rendezvous after the big day, where getting away from it all is first on the list of priorities, or if you have dreamed of an intimate barefoot-on-the-beach wedding, we can help you make your dreams come true.
Intimate Destination Weddings 
In 2017, El Colibri hosted a special wedding day for Tony and Nily, who chose the perfect spot on the beach to say their vows surrounded by 25 friends and family.  The bride made her entrance complete by strolling from the infinity pool terrace above, down the white staircase to the beach, as the music played and the guests soaked in the sun-filled moment.  This first wedding event has spurred us on, so we would love to help you plan your intimate and special day!
At El Colibri, there are many outdoor spaces to host your guests and plan the special moments of the big day!  The spacious kitchen is well-suited for a professional chef to prepare a buffet lunch or dinner, served near the oceanfront terrace or under the thatched-roof palapa surrounded by the tropical gardens.  And if dancing under the stars is part of your dream, the infinity terrace on either side of the plunge pool will work magically….there is even room for a band or DJ, if you want to sway all night long.
The wedding couple will find two romantic options for their honeymoon night – either the chic Master Suite 2 that features its own private spiral staircase, and sliding glass doors that allow the breeze and sounds of the sea to flood in.  Alternatively after the party is over, the wedding couple can wander through the sand to the charming Stone Cottage, which is located behind the villa on a separate private property.  The King Suite is surrounded by stone walls and a full-height stone fireplace, that when flooded with candlelight, stimulates the senses like nothing else.
Planning your wedding at El Colibri, will be one of the most pleasurable experiences of your life and at a price that is surprisingly affordable.  We will help you along the way with provisioning the home, coordinating private massage or chef services, making cleaning and support staff available, as well as our lending our expertise and local recommendations as needed.
Here what our guests have said about their wedding experience at El Colibri:
"The constant communication with Carrie and Ray before we decided to spend 3 nights with them, was so clear and comfortable that we decided there was no better place for us to celebrate one of the most important days of our lives. We couldn't believe that during the ceremony on the beach, we could see whales jumping in the distance, and uncountable breath-taking moments." -Tony & Nily
Trendy Farm Weddings in Cabo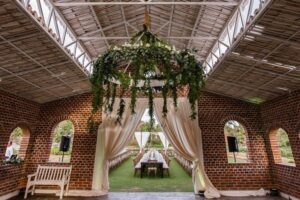 A growing trend in Los Cabos is to plan a Farm wedding – even though Cabo is known for its pristine beaches, the Farm wedding is one way to give your guests the wow-factor.  Surprisingly versatile, the Farm wedding lends itself to be either rustic and whimsical or full-out luxurious depending on your style.  If this option sounds interesting, you could plan your wedding at the Farm and then escape to the beach at El Colibri!  In Cabo there are 3 really great choices located only 20 minutes away from El Colibri in a fertile valley, and all very unique in their own way.
Flora Farms

is the most famed, popular organic farm that started the trend – even Adam Levine chose this venue for his wedding date in 2016!   The culinary experience here has to be experienced to understand how good it is.
Acre is a newer venue to pop up and definitely will wow your senses with its chic architecture, trendy décor, and lush greenery.  We are proud to report that in the summer of 2017, another one of our Colibri guests chose to have their wedding at Acre and then spend a week hosting their closest family members at El Colibri.  In fact they loved it so much that have already booked their repeat visit for Summer 2018!

Los

Tamarindos

is more rustic and authentically Mexican than the first two organic farms, but is another great choice for weddings and special events.  Set among an abundance of organic vegetables and tamarind trees, there is an old-world charm here that is simply fantastic!
Other helpful links for planning your desitination wedding include:
It's hard not to imagine getting married when standing in the warm golden sand looking out over the blue waters of the Sea of Cortez.  Contact us today to chat about the possibilities and to share your dreams with us at El Colibri!