When you first glance at Baja California, its desert landscape is in stark contrast to the surrounding sea. In fact, this peninsula is a unique region that's home to distinct flora and fauna. Escaping to the tip of Baja California is a habit for many visitors. As you enjoy the sun and fun in Cabo and rest in our villa, El Colibri, take some time out of your vacation schedule to really look at the local plant life. This region can change your thinking as you understand the complex nature of each ecosystem.
A Desert Conservation
If you look at Baja California from an aerial view, this peninsula extends for more than 700 miles. Because of its length and surrounding waters, it's almost an isolated island. Endemic creatures and plants dot the landscape from Tijuana in the north to the very tip of Los Cabos.
Most of the peninsula is uninhabited because of federal preserves designated across more than half of the land. By maintaining this natural region, the flora and fauna can flourish without any man-made obstacles. Most people associate this Mexican region as a tropical retreat, but it's technically a desert. Because it falls between 32.5 and 22.9 degrees in latitude, Baja California is officially a desert.

Rainfall and Climate Considerations
The majority of visitors spend their time in Los Cabos or San Jose del Cabo. Most of the year is warm and dry, although there is a short rainy season during the summer. The climate could be more volatile for its latitude location, but the nearby ocean moderates some of the temperatures.
Drive up to the higher elevations outside of town, and you'll discover pine forests that seem more akin to a mountainous area. Drop down from the pine forests to feel a Mediterranean climate with moderate humidity. On average, enjoy comfortable temperatures during the winter at around 70 degrees Fahrenheit with lots of sunshine. Summer in Southern Mexico is always around 90 degrees F. so bring lightweight clothing for this warm period.
Plants Galore
It's true that Baja only receives about 10 inches of rain each year, but it's used by the indigenous plants with amazing efficiency. Explore the various species of plants, including: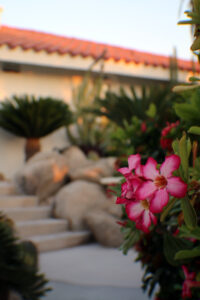 • 100 Mexican cactus types
• 19 Agave species
• 7 Palm types, including the Mexican Blue Palm
You'll also find herbs, such as the Damiana and white sage, that grow wild across the peninsula. Flora fans typically look for the more unusual plants along the peninsula too. Discover these unusual species, such as:
• Giant Cardón Cactus
• Boojum Tree/Cirio
• Succulent Caudiciforms
• Elephant Trees
Getting to Know the Preserves
You're always welcome to explore the area around our beach villa for amazing flora, but there are local preserves that you can discover too.
Wirikuta
Indigenous cacti cover this preserve at Wirikuta, located close to Puerto Los Cabos Marina, a quick 20 minute drive from El Colibri. Explore the spines, blossoms and tall statures of more than 1,500 species of succulents and cacti.
Sol De Mayo Waterfall
Drive and hike out to the Santiago Waterfall where there are hidden pools to dip your feet. Bring a picnic with you since this flora experience is meant to be a full day of fun. It really is a hidden Oasis!
Parque Nacional Cabo Pulmo
Take a 25-mile drive to where the mountains meet the desert floor at Cabo Pulmo Park. Countless plants reside in this preserve where a bay gently laps nearby. Bring your walking shoes and swimsuit for this natural adventure.
"In every walk with nature, one receives far more than he seeks" – John Muir
When you stay at El Colibri, you have every comfort of home on your East Cape vacation. With a well-rested mind, take off on a daytime adventure where you discover every plant mentioned in our local, resource books at the villa. By broadening your mind about the flora just outside of our beach villa, you'll appreciate Baja California more than you ever dreamed possible.