A Relaxed Beginning.
At the center of our 8 days chilling in the southern Baja, was the unique Casa de Piedra (aka "The Stone Cottage") on beautiful Shipwrecks Beach. This charming stone cottage is part of the El Colibri vacation rental property, and is oozing with an unexpected charm and character, that beckons you to simply slow down your pace of life. When I enter through the old rustic wood and iron door, its almost an immediate exchange of the hurried state of my heart, for the calmness and security of being completely surrounded by real stone walls. It's a bit mesmerizing to take it all in.
It doesn't take long and I feel freed to soak up all that the desert and sea has to offer me this week.
Our initial days were filled with beach walks, paddle boarding, and simply grabbing a good book and choosing what comfy chair to settle in. In the midst of our surprisingly lazy week, we decided to change things up and explore the East Cape and southern Baja tip, even further then we have ever before. Our first priority was to explore the Camino Cabo Este….the East Cape Road right from our driveway heading north towards Cabo Pulmo. Cabo Pulmo is a hidden gem in the Sea of Cortez – a national marine park on the east cost of Mexico's Baja peninsula that boasts a bounty of fish and interesting sea life. Well known for its diving and snorkeling expeditions, this is the northernmost coral reef in the eastern Pacific Ocean, and is home to one of only three coral reefs on the west coast of North America. From the previous family who was staying at the Colibri villa over Christmas, I learned about a reputable boat tour company to book your snorkeling adventures through – cabopulmoecoadventures.com – they take care of all the details with good quality snorkel equipment and they even provide you snacks during the day.

A Road Trip Adventure.
So off we went that morning, with a coffee mug, bottles of aqua, and of course a small cooler in hand, that was armed with just enough manchego cheese and leftover olives from the night before, that it would merit a nibble along the way. I was determined to test the bumpy dirt road that follows the virgin coastline, providing a scenic and very quiet ride – after all there are only a few clusters of casas and rustic ranches that you pass along the way. In my usual quest to time the events of our life, we discovered that our home away from home at El Colibri, was barely 60 minutes away from this national park wonder. We made one short detour to pull over on the rugged beach at Los Frailes and saw a few people scattered in RV's camping on the beach, and kite surfers catching the breezy tide. Now that we made it to the first destination, we continued further north past La Ribera and then to Los Barriles, where we know folks from our home city in British Columbia like to enjoy the relaxed lifestyle of the Baja. It had been several years since we made a visit to this hippie-style beach town, and wow were we amazed at the amount of kite surfers on the water that day – it seemed impossible to count them all skimming along the choppy sea!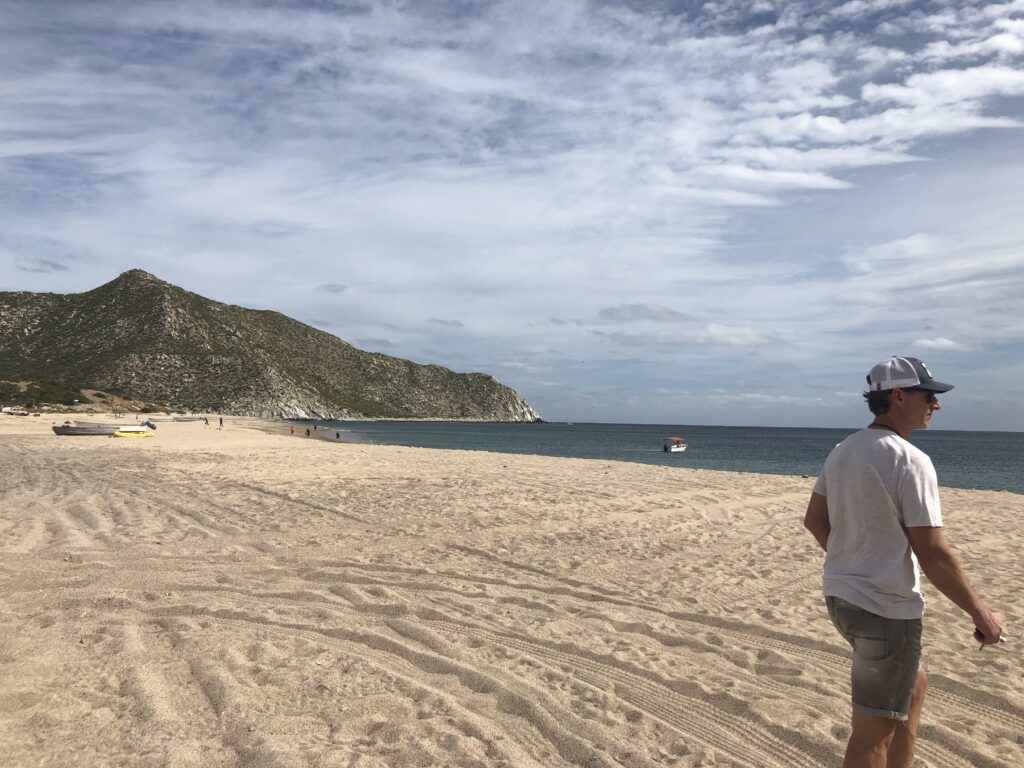 A Town Full of Life & Vision.
Well we decided to keep moving on, since our real goal was to make it to a tiny town nestled in the mountain range in the middle of the peninsula called El Triunfo, which is located about 50 minutes northwest of Los Barriles on the #1 Highway. The road is a two-lane paved highway making its way zig zagging through the mountains, hugging to the rocky cliff formations. It was an exhilarating drive, mostly because of the contrast from driving along the flat beachy road since leaving Shipwrecks. There are a few odd settlements and villages you pass through, and then it doesn't take long and you sense you are nearing the top of the Sierra de la Laguna mountain range. Just rugged and beautiful.
Sure enough we finally made it to El Triunfo – and what an interesting past and possibly future this little mining town has. Let me back up a bit and fill you in – this was a colonial-era gold and silver mining town that got its start when Manuel Ocio founded the in known as Real de Santa Ana in 1748. Situated about 28 miles south of La Paz, and during the towns heyday in the 1870's, the British El Progresso Mining Company took over the mine and brought prosperity to El Triunfo. The mining operations ceased in 1912, and its been known as a ghost town ever since. Or it was up until a few years ago when a few entrepreneurs settled in and started slowly bringing back new life and vision for this sleeping mining town.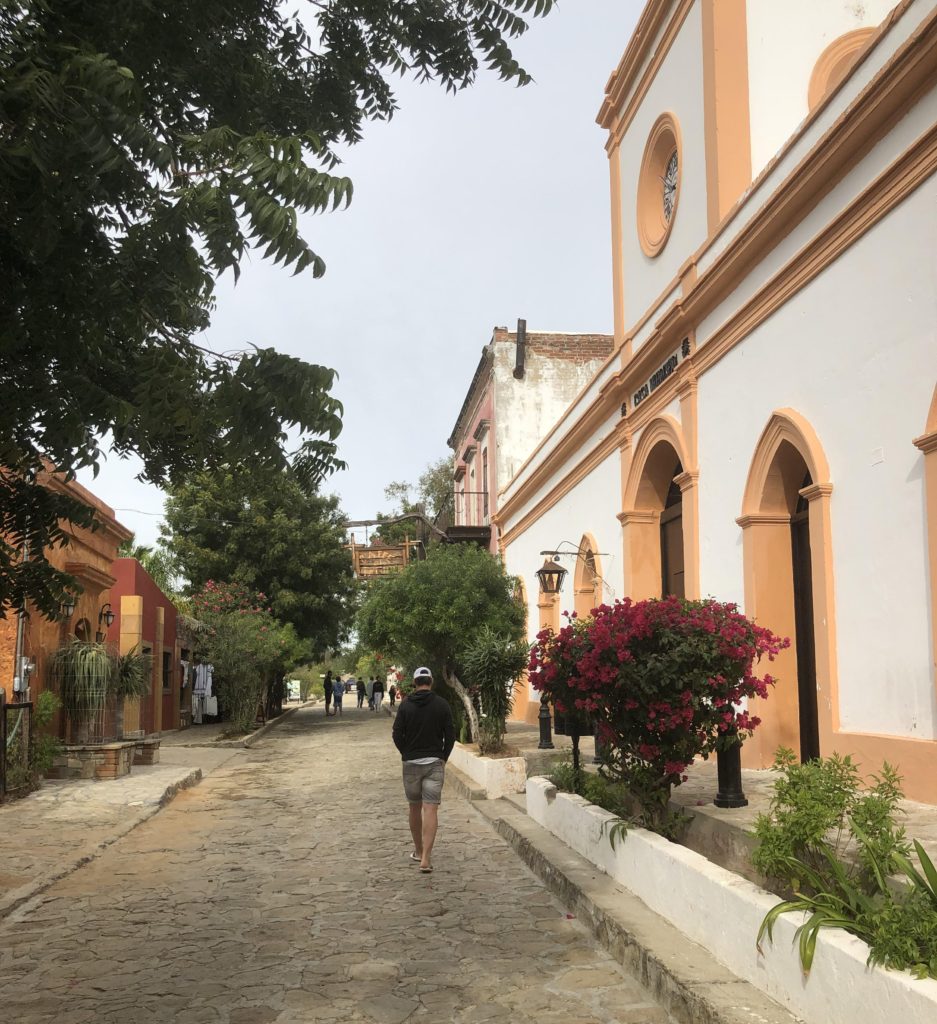 One of them is Marcus Spahr who opened Caffe El Triunfo where there's a wood burning oven with fresh bread and pizzas – and the day we arrived it was full to the brim with travelers from all over. But the real reason for our journey to this humble town was to enjoy a late lunch at the refreshingly chic Bar El Minero – located in a 120-year old building and adjoined by an expansive outdoor courtyard with plenty of seating. From a trusted friend, I am told they serve homemade artisanal sausages, local cheeses, and craft beer on tap, so we have worked up quite the apetite. However it turned out that our journey would need to keep moving, since El Minero restaurant was closed on the day of our arrival! It seems that fate would have us plan a return trip to this quaint little village, and maybe next time plan it for a Sunday, when they serve a large Paella feast.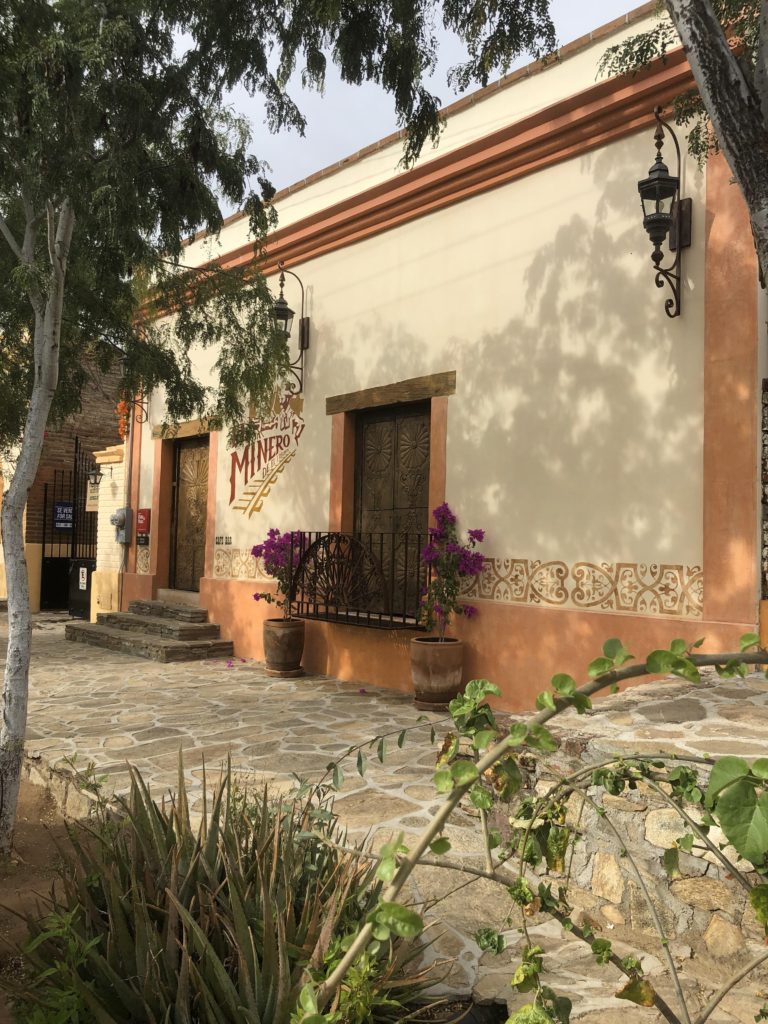 A Charming Evening.
The clock keeps ticking and we wonder if we should go back to the East Cape from the way we came, or keep moving forward and try our luck at staying in Todos Santos on the western Baja coast. We decide to make it a complete loop around the southern tip of the peninsula, so Todos Santos here we come! Turns out that we were well over half way there across the peninsula so in less than an hour, we were parked in the quirky, artsy town of Todos Santos, combing the streets for just the right hotel to call home for the night. Many hotels were full since it was the New Year's week, but after a combing the streets for an hour we found a charming suite surrounded by tropical gardens at the Todos Santos Inn. After settling in we were famished, and it was time to find a cantina and some real food before calling it a night. The streets of Todos Santos are a combination of artisanal markets, with quirky Mexcian boutiques selling jewellery and other touristy wares, and of course some surf culture thrown in. Its perfect for a one-night getaway, but our home away from home in San Jose del Cabo started calling. We retire for a good night's sleep and start our journey first thing, heading south, back to Los Cabos.
Arriving back to the Stone Cottage, it truly feels like you are home and you never want to leave. Everything is just right.
Check out the Stone Cottage and Villa at El Colibri, both unique off-grid beach homes on Shipwrecks Beach: loscabosbeachvilla.com