Unwind and Cool Off in Los Cabos, MX
July 9, 2019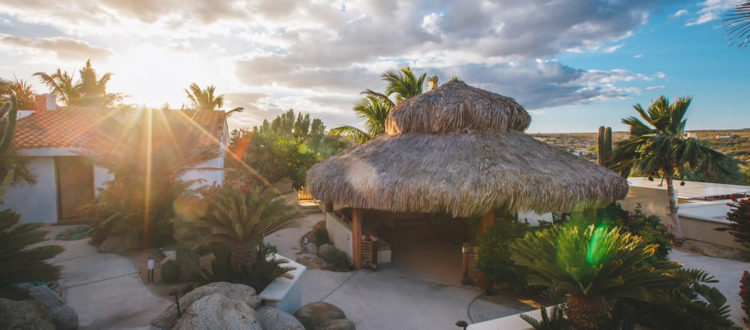 As cool breezes waft across the ocean and into Los Cabos, the tropical warmth that bathes the East Cape is intoxicating. There's no need to wear hoodies or socks most of the year because our beach villa, El Colibri, is more accustomed to having flipflops and sandals on guests' feet. Although the heat may rise between July and September, there's always a reprieve from the sun as you bask at our retreat during your next vacation.
Keeping Cool in Baja Sur
Average Summer Temperatures
Remember that East Cape is known for its tropical weather in the summer, which means that high temperatures and rain often accompany each other. Expect August to be the warmest month with everyday highs in the 90s. Look for overnight lows to enter the 70s, but no lower than that. June, July, August and September tend to have this same high-low average until the seasons change.
With these temperatures in mind, you can pack accordingly. Most visitors bring minimal clothing while they live out of bathing suits otherwise. It's your getaway – so bathing suit lounging is entirely appropriate. Unless you plan on taking a cruise out on the water at night, a jacket or coat is almost unnecessary in the tropical retreat that is Los Cabos in the Summer.
Protection in the Sun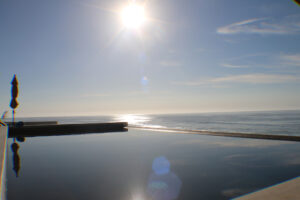 A trip to Mexico is no fun if you don't prevent those nasty sunburns. Apply SPF 30 sunscreen throughout the day, especially when you're ready to lay out on El Colibri's patio deck. Consider these other sun-protection supplies, such as:
1. Wide-brimmed hat
2. Lightweight UV clothing
3. SPF lip balm
Enjoy the perk of using our mini, lip balm at El Colibri if you forget your supply at home. Your comfort means the world to us. We also suggest SPF swimwear when you go shopping. Protecting your skin means that you can have even more fun in the sun as your escape continues for a week or longer.
El Colibri's Heat Retreat
Stay cool in and around the El Colibri villa with these amenities, such as:
1. Filtered water jugs
2. Shady, side bar
3. 2 shaded terraces
4. Huge, thatched palapa
5. Outdoor shower
6. Infinity pool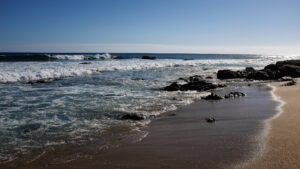 Relax in the air-conditioned suites within El Colibri for an afternoon siesta, and then head out to the wet bar area that holds up to 12 guests. There's always a spectacular view of the sea from the terrace as the barbecue is open to the best cook in the house.
Cool breezes constantly cross our patio area so laying out is comfortable during the summer. Don't forget to explore the nearby beach where umbrellas create shade for those relaxing moments. The crashing waves lull you into a calm state as surfers tear up the water.
Exploring Wet and Cool Activities
After you explore El Colibri's extensive amenities, spread your wings with the kids. Los Cabos and the surrounding areas have plenty of activities that will keep you cool on even the hottest days. Try these suggestions on your next trip:
• Wild Wet Fun Water Park
• Surfing
• Dolphin Experience
• The Marina With Patio Dining on the Shore
• Deep Sea Fishing
• Kayaking and Snorkeling
• Hiking Sol de Mayo
• Discovering Art Galleries
• Sunset Dinner Cruises
• Snorkeling at Cabo Polmo National Park
You have a choice of both indoor and outdoor activities in Cabo, which makes any getaway a dream because everyone will be pleased with the variety.
Start your dream vacation in San Jose del Cabo by connecting with El Colibri today. Whether you contact us through email or traditional phone calls, we're ready to set up your rental as the sunny skies persist in Southern Baja. Our beach villa beckons you to the shore and beyond.